【Delp Instruments】A manufacturer specializing in RoHS, heavy metals, alloy analysis, halogen and other elemental analysis instruments!

EU RoHS2.0 Environmental Solutions
The company takes independent product spectrometer, chromatograph, mass spectrometer as the core, and provides customers with complete various laboratory instrument solutions and authoritative third-party testing and certification services.
Through independent research and development of innovative high-tech instrument products, and with many famous instrument manufacturers at home and abroad have a good cooperative relationship and many years of sales experience in instruments and equipment, our company has a professional scientific research and sales team, and there are many professionals to provide you with quality services. The products have included all kinds of products from the entry application stage to the integrated application stage, and constantly enrich the product categories, which can meet the various needs of Chinese enterprise customers at different stages, and can provide comprehensive enterprise laboratory application instrument services. As a domestic service provider of analytical instrument solutions, Depu has been committed to the cause of analytical instruments, providing customers with competitive solutions and services.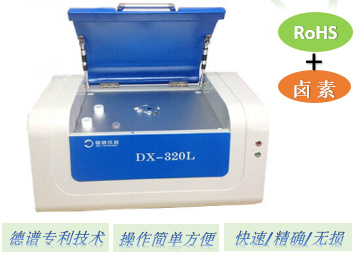 Specifications: DX-320L
Test object: powder, solid, liquid
Elemental analysis range: sodium (Na)-uranium (U)
Up to 36 elements to be measured at the same time
Content analysis range: 1ppm~99.99%
Test time: 60~200 seconds
Imported high-end DSP digital signal processing chip 64-bit processing
Electronically controlled automatic cover lifting software independent control
High voltage power supply: voltage range 0~50KV, stability less than 0.05% per hour
Minimum detection limit:
Cd/Cr/Hg/Br≤1ppm,Pb/Sb/Se/Ba≤2ppm,Cl≤5ppm
DX-320L is an X fluorescence spectrometer integrating RoHS directive/halogen directive/eight heavy metal directives.
It has a good detection limit and accuracy for lead, mercury, cadmium, chromium, bromine, chlorine, arsenic, antimony, selenium, barium and other elements. Fast, precise and lossless.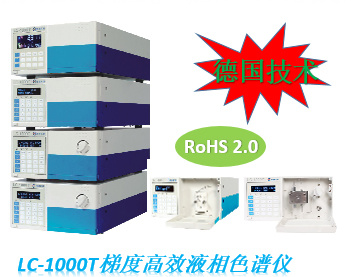 LC-1000T gradient high performance liquid chromatograph is a new type of liquid chromatograph developed and designed by domestic processing and production by the company in order to quickly meet the needs of diversified customer needs, on the basis of the original liquid chromatograph.
Applications: Widely used in electronic and electrical industry, plastic industry, footwear, research and development, pharmaceutical testing, food testing, chemical analysis, environmental monitoring and many other fields. It has good detection accuracy (PPB grade) for bromine, o-benzene, amino acids, potassium salts, brighteners, polyethylene glycol, dodecane aromatic diameter, etc.
The LC-1000T product enables accurate detection of RoHS 2.0 controlled phthalates.
Depu Instruments DX series products can accurately detect RoHS 2.0 controlled hazardous substances: Pb, Cd, Cr, Hg, Br elements.